We analyse materials
We test fibre composites
We inspect on-site
We ensure quality
We proof connections
Accreditation at the DAKKS

Recognition through the DIBt
The DIBt is the german admission office for building products and designs. There, the Siebert + Knipschild GmbH is listed as an inspection body and a certification body.

Notification as a testing laboratory for EU-building products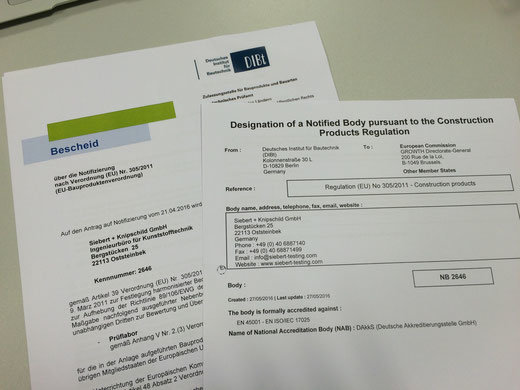 Siebert + Knipschild is the notifications as an testing laboratory for building products according to the european norm EN45001 – EN ISO/IEC 17025, next to the accreditation in the German accreditation body (DAkkS). The notification is valid for prefabricated sewer pipes at the outside of buildings.
We have a membership in the pipelining rehabilitation association for more than 20 years. Since February 2017 Andreas Haacker is Siebert + Knipschilds director, as well as the association volunteer chairman. More information about the association: www.rsv-ev.de.